Dear ISANA Community,
My name is Nadia Shaiq, I am proud and humbled to have served as ISANA's CEO for the past two years. I have been with this organization for 14 years. I started my ISANA career as a first grade teacher, have been a principal as well as a teacher and principal coach, then Chief Academic Officer before becoming CEO.
I am so incredibly proud to be a part of this organization. The mission and vision has always been to partner with the communities we serve to provide high quality, rigorous education in traditionally underserved areas, and to prepare our students to be conscious leaders who, when they culminate from our schools, will transform the society around them.  We firmly believe that when we couple this quality education with an understanding of who our students are and their backgrounds and cultures, our students will perform at the highest levels. And over the past 14 years they have, a testament to actualizing this vision!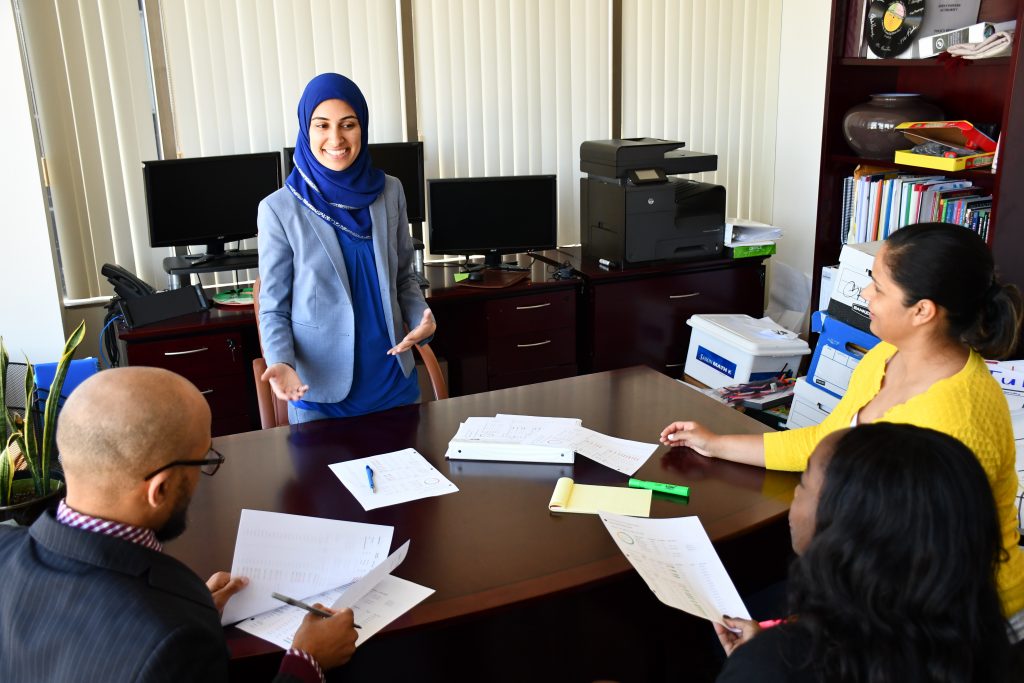 You are ISANA
I unveiled our 2019-2020 theme at the first day of our All Staff Professional Development Conference: "I AM ISANA." We have defined what we value as an organization, and we are committed to making sure every stakeholder embodies these values:
We represent an organization that brings voices to the table, engages in constructive dialogue, makes decisions in the best interest of our students, and openly communicates with those around us.
We represent an organization committed to competence, transparency, and accountability for all of us.
We represent an organization that puts students first, as is represented by our crest, on which sit two children who are studying under the sun of ISANA. Under them, are 5 symbols that reflect key aspects of our organization.
We represent an organization of high expectations and growth mindset, which is exemplified in Lauren Resnick's research based Principals of Learning – the firm belief, accompanied by 7 principles, that intelligence is not fixed, but rather learned – being smart is something you do, not something you are.
We represent an organization that believes that the cultures, languages, and backgrounds our students, families, and staff bring with them are important assets in learning, and as our students learn about the cultures and backgrounds of the world around they are set up to create a more just society. This is represented through the instructional research based practice of Culturally Relevant and Responsive Education – a pedagogy that empowers students intellectually, socially, emotionally, and politically by using cultural references to impart knowledge, skills, and attitudes.
We represent an organization that values Project Based Learning – a student-centered pedagogy of active and inquiry-based learning in which students engage in real world challenges and problems and come up with solutions. Educators and students approach challenges by starting with the end in mind and backwards planning.
We represent an organization that develops the whole child, represented by our robust Performing Arts program, in which all of our students are taught by professionals in their field, and are exposed to new parts of themselves, new cultures, and new pathways for careers through as they put on productions that include dancing, acting, singing, and instruments.
Finally, we represent an organization that believes that the social and emotional development of our students is just as important as their academic development. We support and empower our students to be problem solvers and peace makers and to make decisions that will create a healthy environment.  The Peace Tree, based in Love and Logic techniques, represents the language and strategies students are taught and use to solve problems. This, combined with our robust positive behavior intervention support program, ensures all students receive the social and emotional skills needed for success in the future.
In order to make the above commitments happen, we all must work together.
No one at ISANA works in a silo.
I invite you to join the ISANA Family, and be part of transforming the world around us!
– Nadia Shaiq
CEO, ISANA